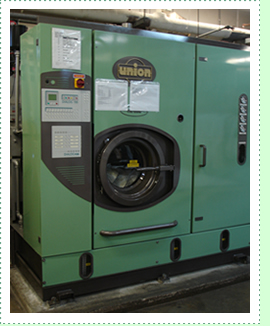 Union HL860 dry cleaning machine
The latest addition to our equipment line - the Union HL860 dry cleaning machine - is equipped with high-efficiency, multi-stage, inline water solvent separation system which assures maximum solvent quality control and purity.
The machine utilizes Idromatic™ Still Cleaning System which completely removes sludge, then automatically pumps out all residue  for containerization and safe disposal.
It is also equipped with multiple, independently functioning high-micron self-cleaning spin disc EcoFilters and large-capacity carbon cartridge filters which assures optimum filtration of both large and small waste particles.